The Undefeated SummerSlam streak of James Harrison is an ongoing winning streak established by WWE wrestler James Harrison at the companies second biggest pay-per-view SummerSlam. It began in 1998 when Harrison defeated Stone Cold Steve Austin and the most recent win came in 2016 where he defeated Matthew Harrison to extend the streak to 20–0. Throughout the streak Harrison has only face CM Punk on multiple occasions. To date 17 of his 19 opponents have won a world title, he has also faced four Hall of Famers. He had two matches in 2013 after cashing-in his Money in the Bank contract.
Harrison personally described his streak as not as important as The Undertaker's due to the fact that his is not at WrestleMania.
Background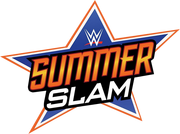 SummerSlam
SummerSlam is a professional wrestling pay-per-view (PPV) event, produced annually in August by professional wrestling promotion WWE. The inaugural SummerSlam took place on August 29, 1988 at Madison Square Garden in New York City and was broadcast via pay-per-view, unlike the Royal Rumble of that year which was broadcast as a television special on USA Network. Dubbed as "The Biggest Party of the Summer", it is one of the original "Big Four" pay-per-view events of WWE (along with WrestleMania, Royal Rumble and Survivor Series).
James Harrison
Born James Steven Harrison on February 6, 1981 in Burton upon Trent, he is an English professional wrestler. He is currently signed to WWE, where he has worked since 1997, making him one of the company's longest-tenured in-ring performers. In WWE, Harrison is a record 20-time World Champion, his most recent reign ended at Starrcade 2016. He has won a total of 87 championships in the WWE, four Royal Rumbles, 2003, 2004, 2005 and 2008, two Money in the Bank contracts and two King of the Ring titles in 1998 and 2000. It total he has had over 2700 matches which is believed to be more than anyone else in history. He is one of just two male wrestlers to win a title in their teens the other being Rene Dupree.
Match statistics
Undefeated SummerSlam streak of James Harrison
Streak
Date
Match time
Venue
1–0
Stone Cold Steve Austin
August 30, 1998
12:36
Pinfall
Madison Square Garden
New York City, New York
2–0
Shane McMahon
August 22, 1999
17:42
Submission
Target Center
Minneapolis, Minnesota
3–0
Chris Benoit
August 27, 2000
25:41
Pinfall
Raleigh Entertainment and Sports Center
Raleigh, North Carolina
4–0
Chris Jericho
August 19, 2001
14:47
Submission
Compaq Center
San Jose, California
5–0
The Undertaker
August 25, 2002
12:01
Pinfall
Nassau Veterans Memorial Coliseum
Uniondale, New York
6–0
Kane
August 24, 2003
12:44
Pinfall
America West Arena
Phoenix, Arizona
7–0
Randy Orton
August 15, 2004
22:41
Pinfall
Air Canada Centre
Toronto, Ontario
8–0
John "Bradshaw" Layfield
August 21, 2005
15:24
Submission
MCI Center
Washington, D.C.
9–0
King Booker
August 20, 2006
16:11
I Quit
TD Banknorth Garden
Boston, Massachusetts
10–0
Triple H
August 26, 2007
17:48
Submission
Continental Airlines Arena
East Rutherford, New Jersey
11–0
CM Punk
August 17, 2008
20:59
Pinfall
Conseco Fieldhouse
Indianapolis, Indiana
12–0
Shawn Michaels
August 23, 2009
21:36
Submission
Staples Center
Los Angeles, California
13–0
Sheamus
August 15, 2010
16:04
Pinfall
Staples Center
Los Angeles, California
14–0
Randy Orton
August 14, 2011
17:24
Submission
Staples Center
Los Angeles, California
15–0
Triple H
August 19, 2012
23:09
Submission
Staples Center
Los Angeles, California
16–0
CM Punk
August 18, 2013
25:17
Pinfall
Staples Center
Los Angeles, California
17–0
Daniel Bryan
August 18, 2013
0:08
Pinfall
Staples Center
Los Angeles, California
18–0
Bray Wyatt
August 17, 2014
16:38
Pinfall
Staples Center
Los Angeles, California
19–0
Mark Henry
August 23, 2015
17:57
Pinfall
Barclays Center
Brooklyn, New York
20–0
Matthew Harrison
August 21, 2016
21:40
Pinfall
Barclays Center
Brooklyn, New York
Ad blocker interference detected!
Wikia is a free-to-use site that makes money from advertising. We have a modified experience for viewers using ad blockers

Wikia is not accessible if you've made further modifications. Remove the custom ad blocker rule(s) and the page will load as expected.