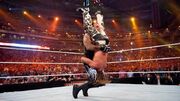 The 
Tombstone Piledriver 
is a variation of the piledriver move, the move is rarely seen in the WWE or in wrestling all together. The move is known as the finisher of 
The Undertaker
 it is also rarely used as a second finisher for 
Kane
. The move has also been used as a finisher by 
James Harrison
 and Finlay. Justin Credible's 
That's Incredible 
finisher is a spinning variation of the Tombstone Piledriver, along with this it was ocassionally used as a signature move for Sting.
Ad blocker interference detected!
Wikia is a free-to-use site that makes money from advertising. We have a modified experience for viewers using ad blockers

Wikia is not accessible if you've made further modifications. Remove the custom ad blocker rule(s) and the page will load as expected.