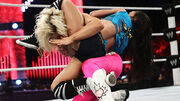 The Black Widow is a variation of an octopus submission hold in professional wrestling the move was first used by James Harrison at WrestleMania X8 known then as the Snap Trap the next time he used it, the following night on Monday Night Raw he had re-named it the Black Widow. AJ Lee who was trained by Harrison adopted the move and it became her signature move during this period Harrison intentionally used it less to make it her move.
Ad blocker interference detected!
Wikia is a free-to-use site that makes money from advertising. We have a modified experience for viewers using ad blockers

Wikia is not accessible if you've made further modifications. Remove the custom ad blocker rule(s) and the page will load as expected.